分類: 活動公告, 課程公告, 演講暨研討會
來源: 原住民族國際事務中心 - 藍秉溢 Lan - edgar@mail.ndhu.edu.tw - 電話5709
對象: 全校教職員_全校教師_全校職員_全校學生_休學學生_兼任教師_退休教職員_教職員眷屬
標題: Center For International Indigenous Affairs' 2023 Indigenous knowledge Public Lecture Series
日期: Sun, 19 Nov 2023 18:21:59 +0800
附檔: Poster-IndigenousKnowledge-LectureSeriesNov2023-v2.pdf&nbsp(543 KB)&nbsp&nbsp&nbsp
---
Good morning National Dong Hwa University students, faculty, staff, and visiting friends! This upcoming week we have a series of public lectures facilitated by the Center For International Indigenous Affairs, and taught by our wonderful professors here at NDHU's College of Indigenous Studies. 

This is a lecture series on Indigenous knowledge organized for our visiting Indigenous scholars from Western Sydney University, but also open to the rest of campus and wider public. 

Dr. P. Kerim FRIEDMAN
What does it mean to be 'Indigenous' Taiwanese?
Nov 22 Wed 10:00-12:00 
CIS 2nd Floor Taluan

Dr. Wagi Payan | Ming SMITH
Atmosphere and Indigenous Tourism in Taiwan
Nov 23 Thu 11:00-13:00 
CIS A218

Dr. Umin Itei | Hung-Yu RU
Initiative of Indigenous Health Right in Taiwan
Nov 27 Mon 10:00-12:00 
CIS A206

Dr. CHEN Yi-fong
Indigenous Peoples and Conservation Movements: Colonial Legacy and Neo-Colonialism
Nov 27 Mon 14:00-16:00 
CIS A318

Dr. Hiu-Ha CHONG
Decolonizing Social Work Practice:
The Case of Indigenous Family Services Centers
Nov 29 Wed 10:00-12:00 
CIS A223

Dr. Awi Mona | Chih-Wei TSAI Taiwan Indigenous Peoples Rights in a Nutshell
Nov 30 Thu 10:00-12:00 
CIS A222

Dr. Shu-chuan LAI
Going Backward into the Future: The Changes and Reconstruction of the Weaving Culture of Contemporary Facial Tattooed Ethnic Groups
Nov 30 Thu 14:00-16:00 
CIS A223

Keep on eye out on CIIA's social media accounts for updates on the lecture series. A flyer with times, dates, and locations will also be attached below.
---
jpg、png、gif、pdf 附檔縮圖(pdf 只顯示第一頁):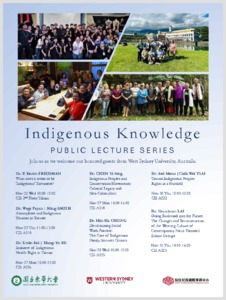 Poster-IndigenousKnowledge-LectureSeriesNov2023-v2.pdf
---