分類: 行政公告
來源: 學務處衛生保健組 - 許嫦雯 - chr@gms.ndhu.edu.tw - 電話6254
對象: 全校教職員_全校學生_兼任教師_退休教職員_校友_教職員眷屬
標題: 【防疫公告】遵守秋冬防疫專案,請隨身備好口罩,做好防疫杜絕感染【Announcement of epidemic prevention】Comply with  the Fall-Winter COVID-19 Prevention Program .Please prepare a mask with you to prevent infection.
日期: Wed, 9 Dec 2020 23:21:27 +0800
附檔: 109.12.01教育部臺教高通字第1090169212號函.pdf&nbsp(103 KB)&nbsp&nbsp&nbsp109.12.04臺教綜(五)字第1090173861號公文.pdf&nbsp(523 KB)&nbsp&nbsp&nbsp
---
說明:國際疫情嚴峻,中央流行疫情指揮中心今(2020)年12月1日啟動「秋冬防疫專案」。依據教育部109.12.01臺教高通字第10901692129(附件一)、109.12.04臺教綜(五)字第1090173861(附件二),來文指示提醒校園防疫注意事項,進入「高感染傳播風險場域應配戴口罩」。
注意事項:
1、「醫療照護、大眾運輸、生活消費、教育學習、觀展觀賽、休閒娛樂、宗教祭祀、洽公」等8大類場所將強制戴口罩。
2、上述場所因具有不易保持社交距離,或會近距離接觸不特定對象(不認識的人)的特性,有較高的感染與傳播風險,因此要求進入該類場所活動的民眾佩戴口罩。開罰的方向是室內開罰,室外勸導,且如果民眾在室內有飲食需求,只要能保持距離、有隔板等防護措施,可在飲食期間暫時取下口罩。
未依規定佩戴口罩,經勸導不聽者,將依違反《傳染病防治法》第37條第1項第6款規定,由地方政府裁罰新台幣3000元以上1萬5000元以下罰鍰。
3、無論校園內外人士,請養成勤洗手良好衛生習慣,維持室內1.5公尺,室外1公尺社交距離,搭乘大眾運輸工具、進出郵局銀行、商場、校內圖書館、體育中心、訓練場、健康中心、K書中心、國際處、出納組、室內集會社團活動等,請遵守各單位門口標示及活動規定強制戴口罩。教室中教師及學生們若無法遵守社交距離應配戴口罩上課,以確保個人生命健康與校園安全。
以上完整資訊詳見疾管署官網https://www.cdc.gov.tw/Bulletin/Detail/56UPsWnK5KgAKolUMz7uWw?typeid=9
您健康,學務處心安
學務處衛保組
Description: Due to the severe international epidemic, Taiwan CDC Fall-Winter COVID-19 Prevention Program started on December 1. According to the Ministry of Education 109.12.01 Taiwan Education Qualcomm No. 10901692129 (Annex 1 Chinese only) and 109.12.04 Taiwan Education Comprehensive (5) No. 1090173861 (Annex 2 Chinese only), the communication instructions remind campuses of precautions for epidemic prevention and enter the "High Infection Transmission Risk Site The domain should wear a mask."
Reminder:
1. To wear a mask compulsorily at eight places related to medical care, mass transportation, living consumption, educative learning, shows and competition, leisure and pleasure, religion and sacrifice, government affairs. These places have characteristics of keeping difficultly a social distance, hence having a higher risk of spreading and infected COVID-19.
2. People could not follow that regulations should be regarded as violating the specific item of the law on the prevention and control of infectious diseases. Furthermore, these people refusing to receive the advice will get a fine from the local government from NT three thousand to fifteen thousand. The only exception is when people are eating or drinking under keeping social distance and having isolation panels. They could take off their mask indoor.
3. Wherever on campus or in the community, please keep having good hand-washing hygiene, maintaining social distance for 1.5m and 1m in indoor and outdoor, take public transportation, enter and exit the post office, bank, shopping mall, campus library, sports center, training ground, health center, study center, international office, cashier group, indoor assembly club activities, etc., please wear masks in accordance with the signs at the entrance of each unit and the activity curriculum regulations. If teachers and students in the classroom cannot observe social distance, they should wear masks to ensure personal health and campus safety.
Detail information, please connect to the Taiwan CDC website.
https://www.cdc.gov.tw/Bulletin/Detail/56UPsWnK5KgAKolUMz7uWw?typeid=9
Your health, OSA's delight
Division of Health Services
Office of Student Affairs
---
jpg、png、gif、pdf 附檔縮圖(pdf 只顯示第一頁):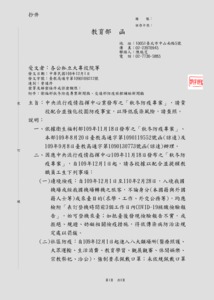 109.12.01教育部臺教高通字第1090169212號函.pdf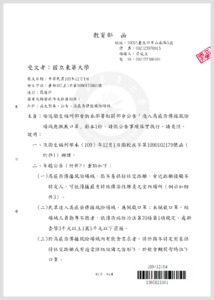 109.12.04臺教綜(五)字第1090173861號公文.pdf
---