分類: 活動公告
來源: 華語文中心 - 張佳慧 - huei@gms.ndhu.edu.tw - 電話5245
對象: 全校教職員_全校學生
標題: 【華語活動】The activity we've been looking forward every year! The most exciting Chinese singing contest you could ever be part of is taking place this coming Tuesday! / 一年一度令人期待、創意無限的華語歌唱大賽就在下週二!
日期: Wed, 2 Dec 2020 19:15:25 +0800
附檔: 2020 NDHU International Students Chinese Singing Contest 2020華語歌唱大賽-poster.jpg&nbsp(552 KB)&nbsp&nbsp&nbsp
---
『2020華語歌唱大賽』提供給外籍生一個最耀眼的舞台,
他們用華語歌曲述說一段闖蕩世界的精彩故事與語言學習歷程。
透過外籍生在東華的努力,華語能力一點一滴的成長。
想看看外籍生如何詮釋華語歌曲撼動觀眾嗎?
透過現場表演,您可以親身體驗華語樂壇不同的美。

為回饋各位同學們的支持,比賽當天將摸彩抽出六位幸運兒。
摸彩獎品為:小米耳機一只(共六名)。

參賽隊伍已準備好發揮他們的創意角逐競賽, 
融合多元活潑背景的創意歌唱表演,歡迎大家共襄盛舉!!!

活動名稱:2020華語歌唱大賽
活動時間:109年12月8日(二)17:30入場,18:00準時開始
活動地點:國立東華大學 學生活動中心演講廳


『2020 Chinese singing contest』has been arranged so all our International students at NDHU may have the most extraordinary stage to amaze us all with their amazing singing performance. 
Contestants will make you feel their vibrant life story through their use of Chinese song in their performance. 
They will not only be able to witness their singing skills on stage but also the effort and hard work that takes to learn such a beautiful language.
Would you like to join us and let our contestants delight your ears with their outstanding singing and Chinese language skills?  
2020 Chinese singing contest you will let you experience the different beauty of the Chinese music.

We do really appreciate your support by attending CLC activities. Therefore, we will have 6 lucky draw during the contest. 
Lucky draw prize: Xiaomi earphone (6 in total)

Our contestants are more than ready to take your breath away!
Don't miss the opportunity to listen to our incredible contestants and their unique performance style. You are more than welcome to have an awesome time with us!

Activity name: 2020 Chinese singing contest
Time: December 8th, 2020 (Tuesday) Doors open at 17:30. Starts at 18:00
Location: NDHU Student activity center - Auditorium. 
---
jpg、png、gif、pdf 附檔縮圖(pdf 只顯示第一頁):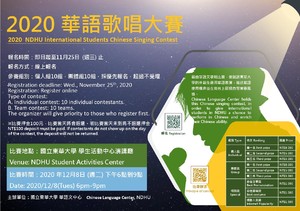 2020 NDHU International Students Chinese Singing Contest 2020華語歌唱大賽-poster.jpg
---