分類: 活動公告
來源: 體育中心 - James C. S. Chuang - james@gms.ndhu.edu.tw - 電話890-6613
對象: 全校教職員_全校學生_教職員眷屬
標題: 5 by 5 grid treasure-hunting through orienteering-a series of activities of sports meet in celebration of Dong Hwa's anniversary 2019
日期: Fri, 1 Nov 2019 16:53:03 +0800
附檔: 11.jpg&nbsp(2 MB)&nbsp&nbsp&nbsp
---
1.	Purpose: encourage faculty to dare self-challenging extreme sports, by which promote diversified sports ambience in campus, experience in-campus treasure-hunting by virtue of orienteering.

2.	Host: Preparatory committee of anniversary celebration, NDHU.

3.	Organizer: Physical Education Center, NDHU.

4.	Date: Nov. 10, 2019 (Sunday)

5.  Check-in time: 11:50~12:00 (activity starts on 12:10, estimate to complete in 40 minitues.)

6. Venue: Plaza in front of Library of NDHU.

7. Sing-up qualification: Faculty, students and their dependents. 

8. Sign-up dead line: from this day onwards till 17:00, Nov. 9, 2019.

9. Sign-up website: https://forms.gle/a8NeLNtnF6FtniNYA

10. Remarks: risk of the day of activity should be covered by insurance by each participant spontaneously.

11. Rule: Collect activity map on the day of activity. Look out for 25 check-in points in accordance with guidance in map. The fastest 10 male, female contestants will be awarded certificate of merit, the fastest 30 contestants will be awarded one sports towel of NDHU's 25 anniversary.    

---
jpg、png、gif、pdf 附檔縮圖(pdf 只顯示第一頁):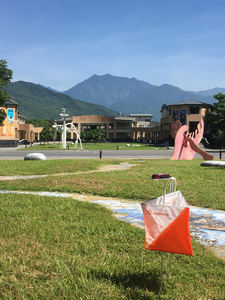 11.jpg
---