分類: 招生公告
來源: 體育中心 - James C. S. Chuang - james@gms.ndhu.edu.tw - 電話8632613
對象: 全校教職員_全校學生_教職員眷屬
標題: Dong Hwa's swim-learning lessons-"easy swim" open all year round
日期: Mon, 12 Jun 2017 11:26:50 +0800
附檔: 106.6.12游泳班海報.jpg&nbsp(432 KB)&nbsp&nbsp&nbsp
---
Physical Education Center of Dong Hwa offers swim learning lessons for beginners all year round subject to there are minimal students in each class to begin with.

Each of these swim classes consists of 8 sessions which spreads over 2 weeks period from Tuesday through Saturday. In order to have class open quickly, group registration with minimal students to start a class is welcome.

Feasible time period for class to open: 06:00 ~ 12:00 am / 14:00 ~ 21:00 pm
  
There are 5 different swim-learning classes: kid class, one-on-one class, one-on-two class, one-on-three class and one-on-four class as below, welcome to sign up:
I.	Kid's class (4 ~6 years old): minimum students: 3 persons, NT$2800 / per person.
II.	One-on-one class: NT$5000/ per person. 
III.	One-on-two class: NT$ 3000/ per person.
IV.	One-on-three class: NT$2500/ per person.
V.	One-on-four class: NT$2000/ per person.

Those who are interested in above-mentioned classes please call swimming pool at: 8632616 / 8632617

Contact persons: Mr. Shen /Mr. Dong. 

---
jpg、png、gif、pdf 附檔縮圖(pdf 只顯示第一頁):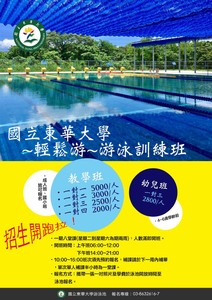 106.6.12游泳班海報.jpg
---